Product Description
Nutritional Cereal Bar make machinery
1.large air puffing machinery
Technical parameters:
Electric pressure: 380V 50Hz Power: 0.75 kw
Production Capacity: 50-60kg/h Weight :480kg:
Size: 1650*800*1350mm
Purpose:Used for the rice,corn,wheat,barley,beans and other food's puffing
Characteristics:
1. Easy operation,power saved,save times and high production.
2.With seismic thermometer and equipment tank gauge,automatic measurement of the temperature and pressure within.


2.sugar boiled pot
Proposal:: we advice using two set boiled pots.
It can alternate use, improve efficiency.

(according to yourrequirement)
Device parameters
Volume:200L
Inside Diameter:840mm
Size:1470*905*990mm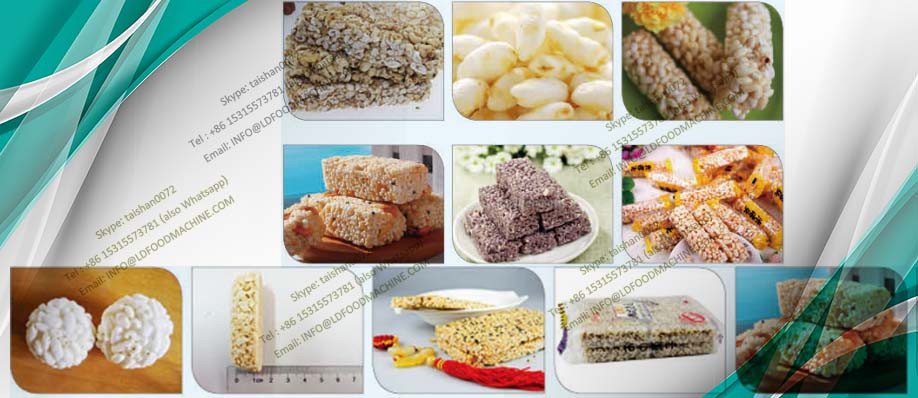 3.Mixing machinery
Device parameters
Power:1.1kw
VoLDage:380V/50HZ
Size:800*900*1400mm
Capacity:20KG/once
Equipment Introduction
The material in the pot is teflon,it has advantages(1)Resist temperature(2)Corrosion Resisting (3) Non-adhesive(4)Not Deformation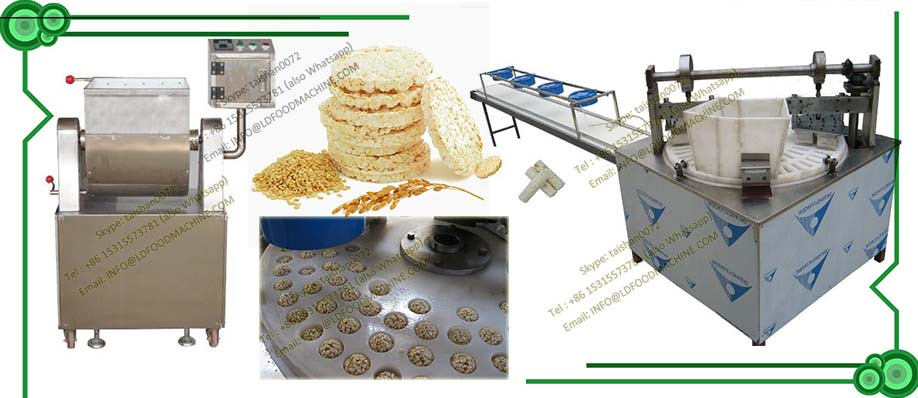 4.Ascension conveyor
Device parameters
Power:0.37kw
VoLDage:380V/50HZ
Size:2500*820*1080mm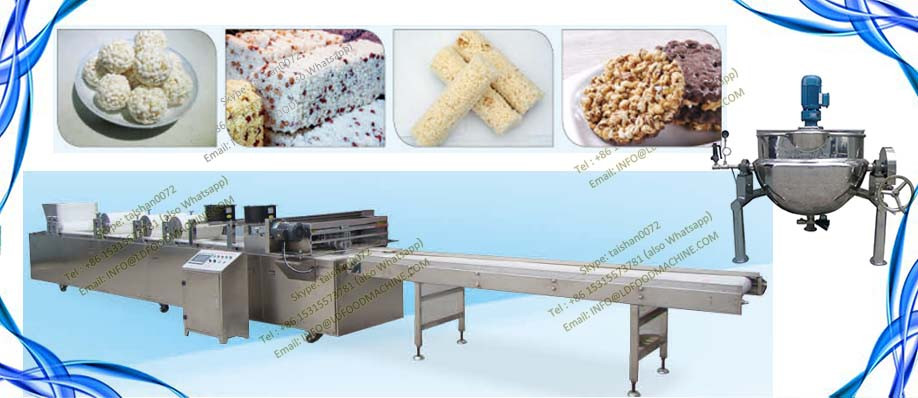 Equipment Material:
304 The surface is austenitic stainless
The conveyor belt material is PVC
Equipment Introduction
Conveyor the material to the automatic cutting machinery
5.Automatic cutting and forming machinery
Device parameters
Power:2.2kw
VoLDage:380V/50HZ
Size:6000*1200*1200mm
Capacity:2-8t/8h
Equipment Introduction
Automatic laying material,pressing flat, cooling, cutting and forming
The conveyor belt speed can be adjusted
LDout the same width product,the length and thickness can adjust arbitrarily;
LDout the other width product,just change the knife shaft.


6. Coolingconveyor
Device parameters
Power:0.37kw
VoLDage:380V/50HZ
Size:2500*820*720mm(according to your requirement)

7.package machinery
voLDage:220V
power:2.5kw
Pack speed:50-300pcs/min
Pack length:50-300mm
Pack width:50-310mm
Pack height :5-60mm
size:3800*780*1500mm
Pls feel free to contact me for any question at all times.
Contact information:
Berry Xue ()

125015 ;
; F:

Address: