Product Description
What material can be dried by this machine?
Microwave food drying equipment in the food industry is mainly used in all sorts of small packaged food, bottled food, cakes, biscuits, preserved fruit, bean products, cooked food, seasoning, chicken essence, essence) face powder for heating, drying and sterilization, etc. Also used in seafood (dry kelp, laver); Bread, sugar, dried fruit products, tea, tobacco, food dehydration, drying, sterilization mildewproof processing. As well as the thawing processing of all kinds of frozen food. By microwave drying, sterilization of food can prolong shelf life of 3 ~ 8 times, does not destroy the original nutrition composition, color, taste and natural flavor. Compared with other drying, sterilization, thawing device, can reduce cover an area of an area, reduce the energy consumption of 30% ~ 100%. "Three wastes" pollution and not production.
fruit slice baking/roasting machine Fruit & Vegetable Processing Machines corlor: silvery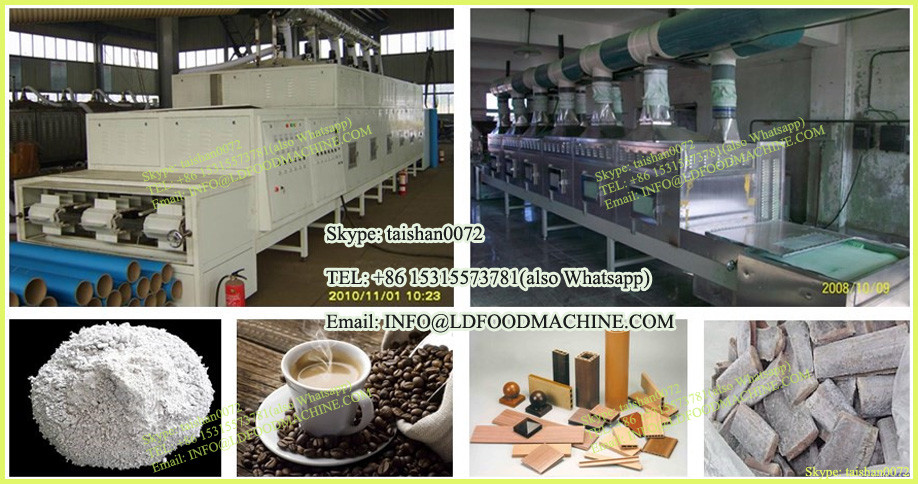 The characteristics of the dry sterilization:
1, high efficiency, energy saving, heat evenly. Microwave has a penetrability, can penetrate into the beef jerky heating, do it inside and heating at the same time, and only the heated beef jerky to absorb microwave energy, so electric high efficiency, heating uniform, small heat loss. Compared with conventional electric heating dry, can saving electricity commonly 1/3 to 1/2.
2, low temperature sterilization effect is good, dual bactericidal effect, thermal effect and non-thermal effect of microwave than with conventional methods, has the characteristics of low temperature, fast, can keep food color, fragrance and original taste, does not destroy nutrients, have nutritional benefits at the same time, products taste good.
3, easy to control in time, the production is not affected by weather conditions, out-of-the-box microwave equipment, no thermal inertia, the size of the microwave power, transmission speed can be continuous smooth adjustment, can be continuous production 24 hours a day.
4, when microwave heating equipment itself has no thermal radiation, can improve the working conditions. Microwave leakage in line with national standards. Equipment structure
Application:
Conventional thermal sterilization often exists in the environment and equipment heat loss, and microwave is a direct effect on food processing, and thus no additional heat loss. In addition, the electrical energy to microwave energy conversion efficiency of 80% in 70, by contrast, can generally be electricity saving 30-50%.
Environmental health: microwave heating, drying, no waste water, waste gas, waste, there is no radiation relic, the microwave leakage also make sure that the safety standards, is well below national high and new technology is a kind of very safe.
Pls note:
According to different drying capacity, there are models of 10,15,18,20,25,30,50,60kw microwave output to choose.
Specifications
| | | | | | |
| --- | --- | --- | --- | --- | --- |
| Model | Working Frequency | Output Power KW | External Dimension | Productivity of drying | Productivity of steriliztion |
| NMB-10 | 2450+-50MHZ | 15 | 9.8m*1.2m*1.6m | 40-75hg/h | 150-180hg/h |
| NMB-20 | 2450+-50MHZ | 20 | 12.4m*1.2m*1.6m | 50-120hg/h | 200-250hg/h |
| NMB-10 | 2450+-50MHZ | 30 | 14.6m*1.2m*1.6m | 65-160hg/h | 300-400hg/h |
| NMB-30 | 2450+-50MHZ | 50 | 20.5m*1.2m*1.6m | 120-200hg/h | 500-600hg/h |
| NMB-40 | 2450+-50MHZ | 50-80 | 30m*1.2m*1.6m | 200-300hg/h | 600-1000hg/h |
| NMB-50 | 2450+-50MHZ | 7-80 | 9-30m*1.2m*1.6m | 40-360hg/h | 60-1000hg/h |
fruit slice baking/roasting machine Fruit & Vegetable Processing Machines Function: microw microwave pigskin puffing machine
apple slice/flakelet microwave puffing machine Fruit & Vegetable Processing Machines Advantage: keep fresh and color and flavor
fruit slice baking/roasting machine Fruit & Vegetable Processing Machines Usage: microwave tea dryer

fruit slice baking/roasting machine Fruit & Vegetable Processing Machines Application: microwave pigskin puffing
Our company other types dryer pictures
apple slice/flakelet microwave puffing machine Fruit & Vegetable Processing Machines Driving mode: belt
fruit slice baking/roasting machine Fruit & Vegetable Processing Machines Material: Material:full stailess steel
fruit slice baking/roasting machine Fruit & Vegetable Processing Machines Technology support: life time

3.0